How to "read" the reforms? Elections, parties, police • COURSE FOR JOURNALISTS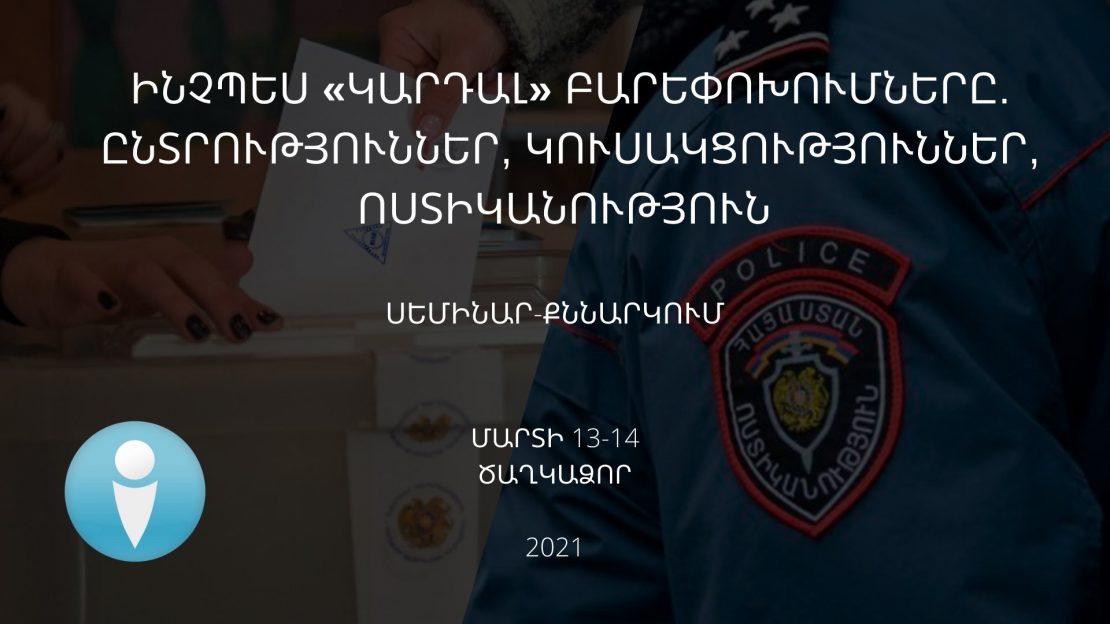 March 13 – 14, 2021
The Union of Informed Citizens NGO organizes a 2-day seminar-discussion for journalists in Tsaghkadzor on March 13-14, entitled "How to read the reforms. Elections, parties, police "․
Deputy Minister of Justice Kristine Grigoryan, Coordinator of the Working Group on Electoral Reform Hamazasp Danielyan and other officials and experts will make reports at the event.
All costs related to the participation in the event will be covered by the organization.
Departure from Yerevan is scheduled on Saturday morning, and the return on Sunday afternoon. If you want to leave Yerevan on Friday evening, indicate it in the appropriate line in the application.
To apply for participation, you need to fill out the application at https://forms.gle/p9HXzy6VwY9Cb9GfA
The deadline for receiving applications is March 10. About 20 journalists will be selected for participation. For more information, call (011) 355042 or write to our Facebook page.
2021-3 -13
2021-3 -14
Europe/London
How to "read" the reforms? Elections, parties, police • COURSE FOR JOURNALISTS
The Union of Informed Citizens NGO organizes a 2-day seminar-discussion for journalists in Tsaghkadzor on March 13-14, entitled "How to read the reforms. Elections, parties, police "․ Deputy Minister of Justice Kristine Grigoryan, Coordinator of the Working Group on Electoral Reform Hamazasp Danielyan and other officials and experts will make reports at the event. All
Ծաղկաձոր
save event to calendar