Last year, Armenia's foreign trade growth continued at a fairly rapid pace, amounting to more than USD 8.1 billion, up 10.5% from the previous year. Moreover, export volumes increased by 9.5% ․ Compared to $ 2.4 billion in 2018, exports in 2019 amounted to about $ 2.64 billion.
The rates at the beginning of last year were lower than in the same period of 2018, but the growth in the second half of the year led to an annual growth of 9.5%. The volume of exports by months is presented below.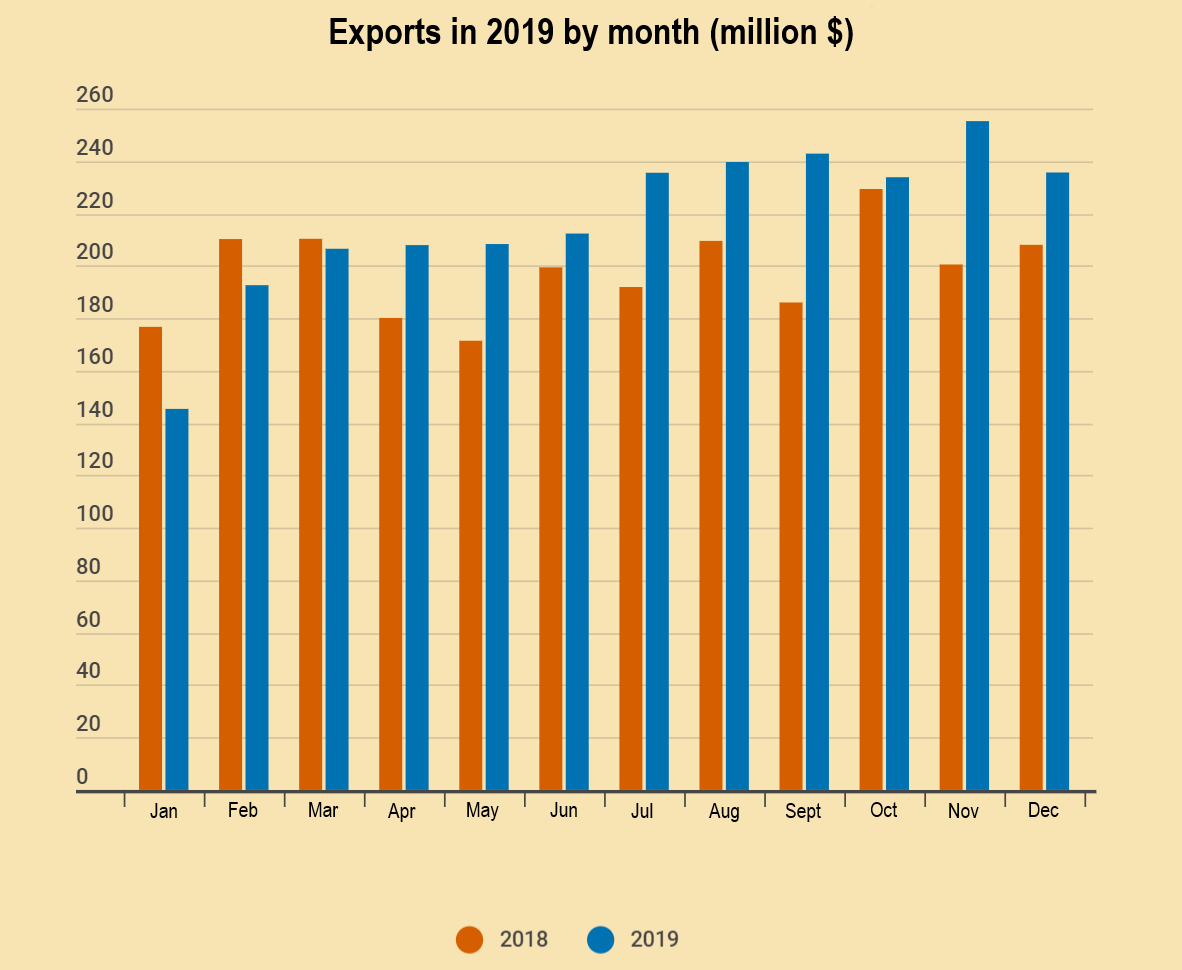 As can be seen from the graph, there was a particularly large increase in the months of July (19.5%), September (33%) and November (25-7%) compared to 2018.
Commodity structure of exports
As in previous years, in 2019, mining products were again leaders in exports with a total value of $ 742․9 million, which is more than 28% of total exports.
Mining products are followed by ready-to-eat food – $ 639 million (24.2%), precious and semi-precious stones, precious metals and their products – $ 414 million (15.7%), non-precious metals and their products – $ 260.9 million (9.9%), textiles – $ 166.8 million (6.3%), and commodities of plant origin – $ 106.4 million (4%).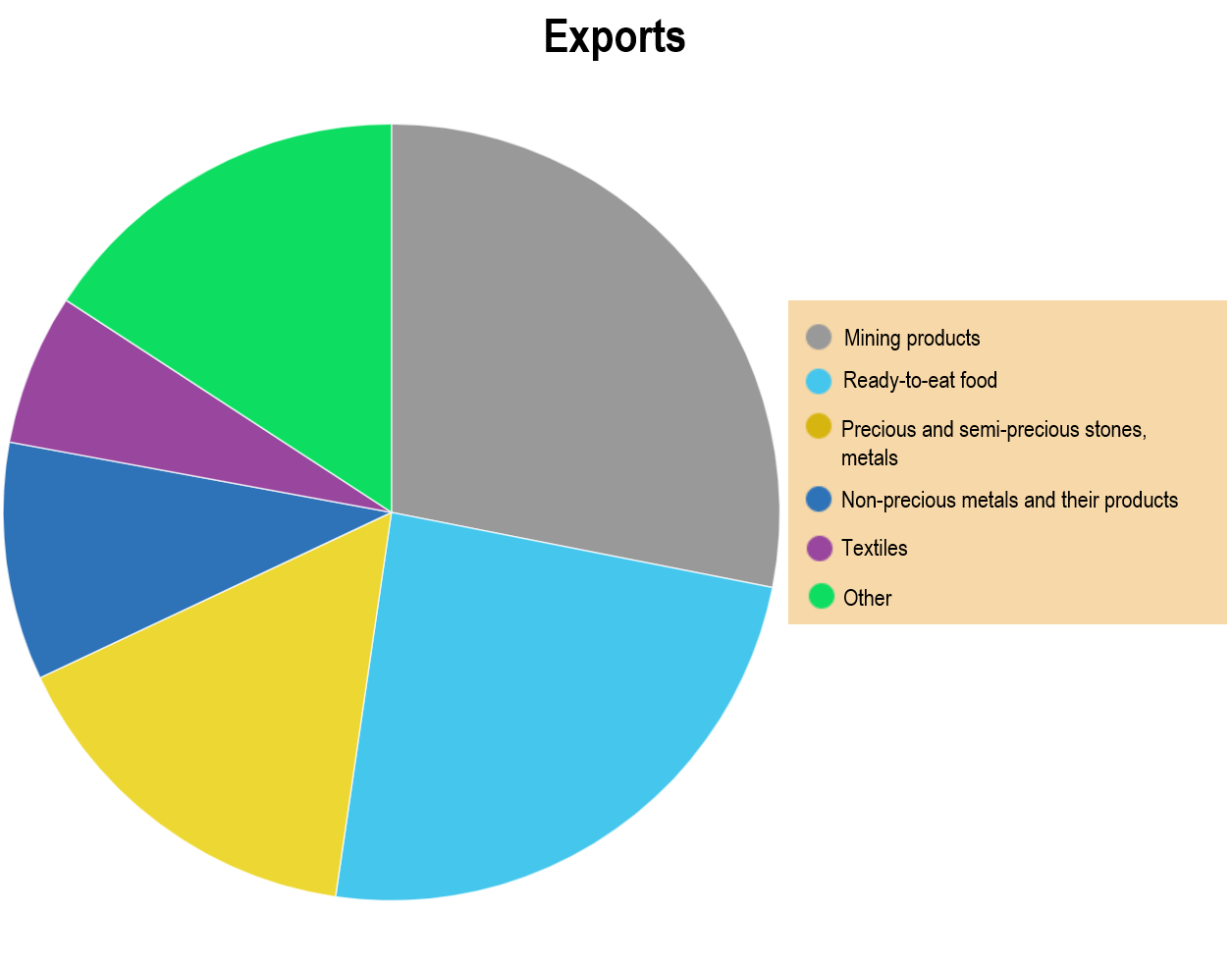 It is noteworthy that the arrangement of exported commodity groups has not changed compared to 2018. Moreover, the volume of exports of mineral products, which decreased by about 5% in 2018, increased by 15.2% last year. The share of the latter in total exports has also increased. In 2018, this commodity group accounted for 26.7% of exports, last year it was already 28.1%.
The share of ready-to-eat food, precious and semi-precious stones, as well as metals has also increased.
The decrease in the exports of textile goods is remarkable. In 2018 we had a growth of more than 65% in exports of this commodity. Last year the exports of textile goods decreased by more than 25%.
Exports geography
The main consumption direction of commodities exported from Armenia has undergone slight changes compared to 2018. In 2018, the shares of the EEU and the EU, which are considered the main directions, were respectively 28.5% and 28.3%. Last year the share of the EU decreased by 6.2%.
And despite this circumstance, the share of commodities exported to the EEU countries has increased by only 0.3%. Last year, commodities worth more than $ 760 million were exported from Armenia to the EEU countries. It goes without saying that Russia remains the main trading partner among EEU countries. 27.8% of Armenian commodities are exported to this country. Among exports from Armenia to Russia and other EEU countries, alcoholic beverages, tobacco, ready-to-eat food, textile goods, fruits and vegetables, and etc. continue to dominate.
As we have mentioned, exports to EU member states have decreased, making up 22.1% of exports. Last year, more than $ 583 million worth of goods were exported from Armenia to EU member states. The main trading partners among the EU member states remain Bulgaria – $ 207.4 million (7.9%), the Netherlands – $ 153.8 million (5.8%), Germany – $ 69.6 million (2.6%) and Italy – $ 59․7 million (2.3%).
EU member states mainly buy precious and semi-precious metals and stones and textiles from Armenia.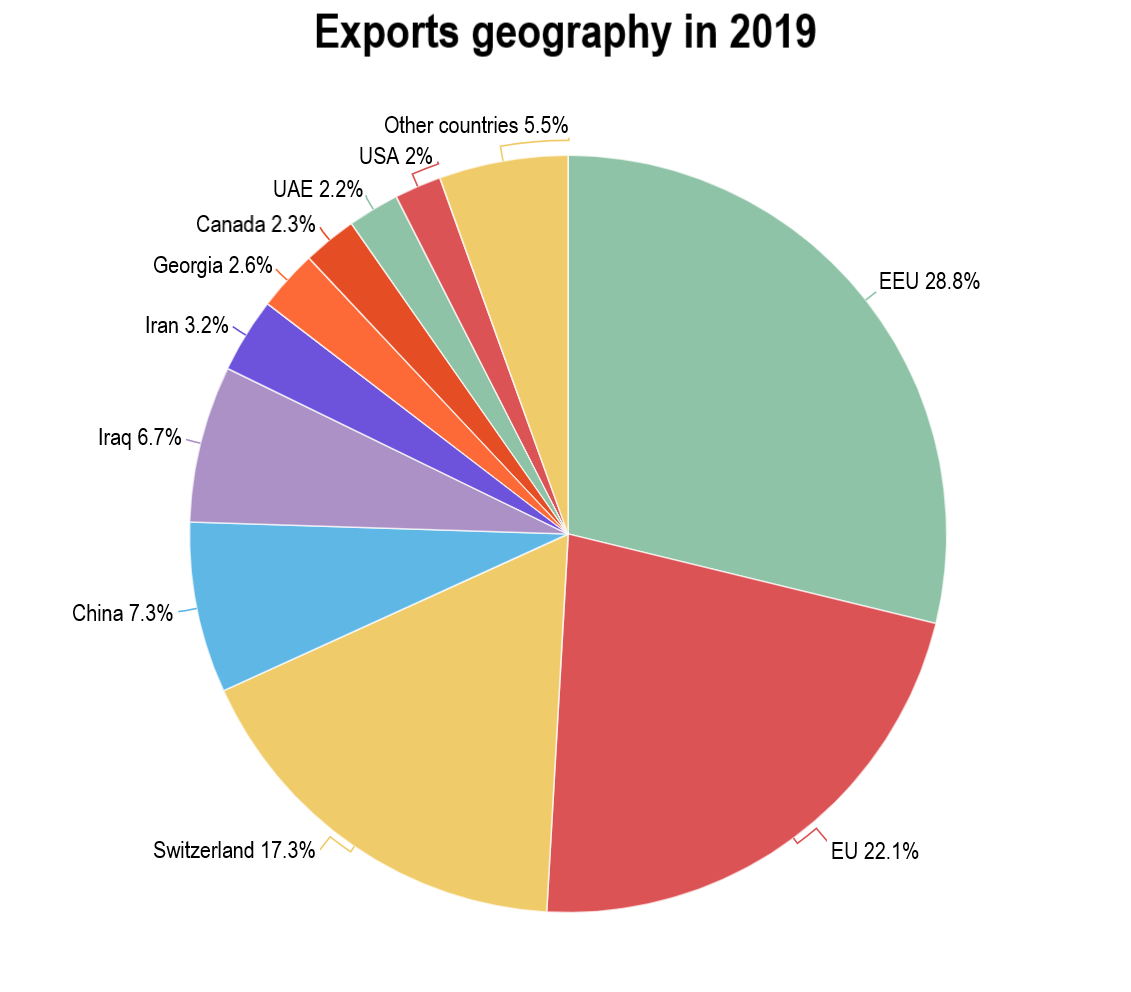 Apart from the EEU and EU countries, commodities from Armenia were exported to other countries as well. Last year commodities worth $ 1 billion 256 million were exported to those countries. For comparison, the volume of commodities exported to this group of countries in 2018 was only a little over $ 1 billion.
Despite the fact that Armenia has been a member of the EEU for 5 years, and trade turnover with the member states of this economic union was expected to increase, the decline in exports to EU countries last year did not lead to an increase in trade with the EEU member states, but the direction of exports changed to non-EEU and non-EU member states. In 2018, the exports to these countries accounted for 41.8% of the total exports, and already last year this figure increased by 5.7%, becoming 47.6%.
The following countries from that group are among Armenia's major trading partners: Switzerland with $ 457.8 million (17.3%), China with $ 193.7 million (7.3%), Iraq with $ 177.3 million (6.7%), Iran with $ 83.8 million (3.2%), Georgia – $ 69.2 million (2.6%), Canada – $ 61․2 million (2.3%), the United Arab Emirates – $ 57․3 million (2.2%), the United States – $ 53.9 million (2%), and so on. Compared to 2018, exports of commodities to China and Canada increased by more than 80%, and a significant increase (35.7%) was registered in commodities exported to Switzerland. Meanwhile, the volume of commodities exported to the United Arab Emirates and Iran decreased by 22.4 and 11 percent respectively.
Raw materials, concentrates, watches and watch parts, precious and semi-precious stones and metals, construction materials, plastic and glassware, tobacco, sweets, animals, etc. are mainly exported to these countries from Armenia.
Sevada Ghazaryan
Union of Informed Citizens
Related Posts: