Armenia's energy system has developed significantly in recent years, mainly due to the new HPPs operated in Artsakh.
However, as a result of last year's war, most of those hydropower plants came under Azerbaijani control. This year, the planned shutdown of the Metsamor NPP and the shutdown of the 5th power unit of Hrazdan were added to it.
It can be said that 2021 was a shock for the energy system of Armenia, which will be a serious basis for reviewing and raising tariffs in the near future.
Tariffs for major power plants and service companies were last revised and entered into force on February 1, 2020, while revised tariffs for electricity sold to consumers came into force on February 1, 2017 (except for socially vulnerable consumers, revised tariffs for whom came into force on February 1, 2019).
According to Article 22 of the Law of the Republic of Armenia on Energy, electricity tariffs can be revised not earlier than every 6 months, but the Public Services Regulatory Commission (PSRC) usually reviews the tariffs of large power plants and service companies on an annual basis. Taking into account the aforementioned circumstance, on September 10, 2020, on the initiative of the PSRC, the process of reviewing the tariffs of large generating plants of the power system, service providers and the ENA tariff margin was launched.
Thus, according to preliminary calculations, in the near future the electricity tariff will most likely increase by 2 drams 27 lumas.
In the table below, the Union of Informed Citizens presents the tariffs of power generation, conveyance and distribution companies in Armenia, their owners and other relevant information.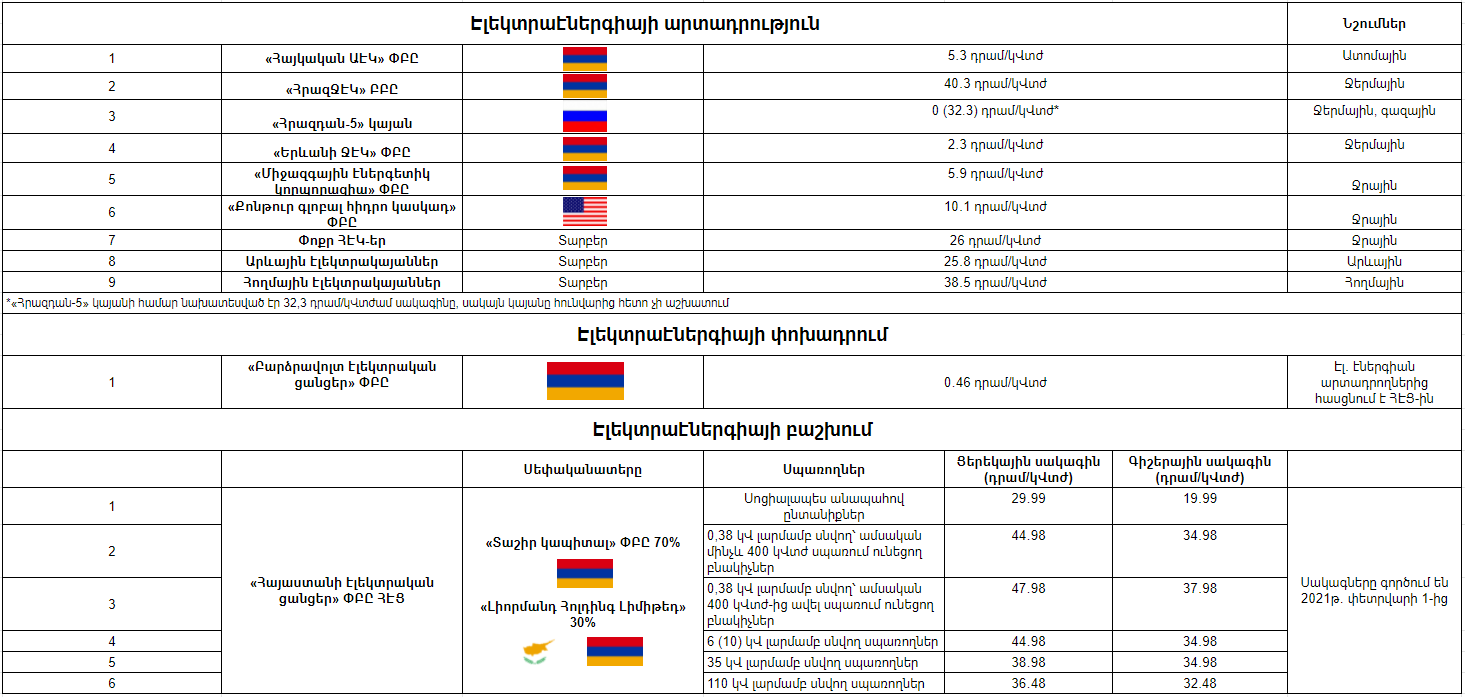 Related Posts: