Recently the Eurasian Economic Commission published statistical data summarizing the annual results of foreign and mutual trade of EAEU member countries for the year 2016. According to the data, the mutual trade between the member countries decreased by around 3 billion USD or 6.7% in 2016. In parallel, the foreign trade of EAEU member states with third countries has also decreased. In this respect, it would be interesting to study the dynamics of foreign trade during the second year of EAEU's activity.
EAEU Countries in International Trade
According to data published by the Eurasian Economic Commission, EAEU's foreign trade turnover with third countries made up 509 billion USD in 2016. In particular, exports formed 308.4 billion USD, and imports – 201.3 billion USD. Thus, compared to 2015, the foreign trade of EAEU countries decreased by around 12% or about 69.6 billion USD. In particular, overall exports reduced by 17.5% or 65.4 billion USD, and imports reduced by 2% or 4.2 billion USD. As a result, the foreign trade balance has reduced by 61 billion USD.
In terms of exports, only Armenia and Kyrgyzstan have managed to register progress. Thus, in 2015, exports from Armenia to third countries increased by 13.3%, and imports decreased by 2.2%. In case of Kyrgyzstan, exports increased by 5.2% and imports increased by 15.3%. The largest decline was registered in the exports of Belarusian goods, namely 22.3%. In case of Russia and Kazakhstan, exports reduced by 17.2% and 19.5% respectively.
The aforementioned data show that the role of EAEU member countries in international economy continues to decline. In case of Armenia, the substitution of third country products by Eurasian ones is quite obvious since import of goods from third countries to Armenia reduced by 2.2% in 2016, and imports from EAEU member countries increased by 8.7%. This, of course, is the result of high EEU customs tariffs and application of non-tariff regulation instruments.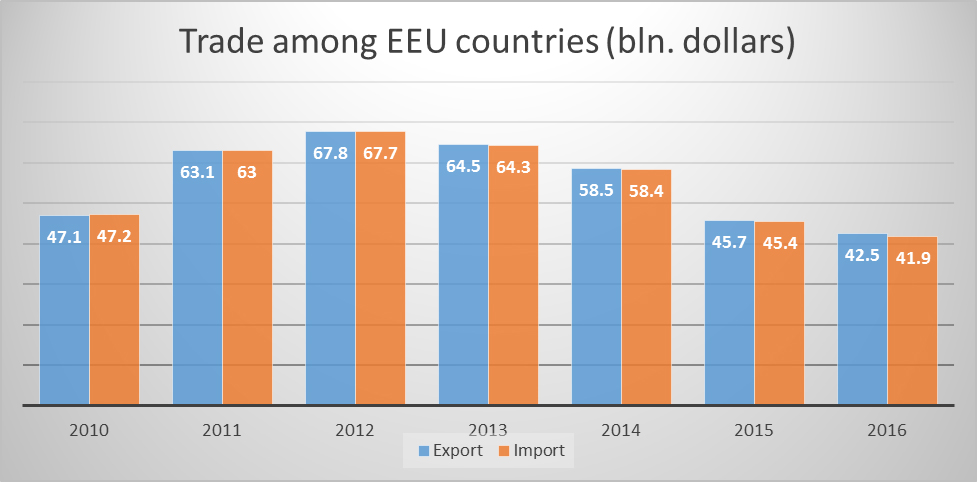 Eurasian Economic Union and Deintegration
A similar decline has been registered in the mutual trade between EAEU member countries. In 2016, EAEU internal trade turnover amounted to 42.5 billion USD, which is 6% smaller compared to the indicator in 2015. In particular, trade in mineral products has decreased by around 3.6 million USD, different equipment and transport means – 114.2 million USD, metal goods – 65.4 million USD. In 2016, increase in imports from EAEU member countries has been registered only in case of Armenia (8.7%) and Russia (1%). In contrast, imports from EAEU countries to Kyrgyzstan have decreased by 23.2%, to Belarus – 10.7%, and to Kazakhstan – 13.8%.
Another troubling circumstance is that 2 years after the formation of a common economic area, the integration level of the countries continues to remain extremely low. For all the EAEU member states, economic relations with the EAEU are identical with economic relations with Russia. Thus, in 2016, Russia had a 94.6% share in Armenia-EAEU trade turnover, while Belarus had a 3.6% share, Kazakhstan – 1.5%, and Kyrgyzstan – only 0.3%. Similarly, Russia had a 96.2% share in Belarus-EAEU trade turnover, while Kazakhstan had a 3.2% share, Kyrgyzstan – 0.4%, and Armenia – 0.2%.
In these circumstances, it remains unclear what economic background the economic union between these five countries was based on and what economic benefits it can bring to the member states.
Andranik Manukyan
"Union of Informed Citizens"
Related Posts: