Union of Informed Citizens continues shedding light on the series of foreign grants received by Armenia's state authorities. Today we will touch upon the grants received by the National Assembly of Armenia in 2006-2016. During those years the National Assembly has received about 955 million AMD worth of material assistance from various countries.
In particular, in 2006-2007, the US Agency for International Development (USAID) provided computer network servers, monitors and other computer equipment worth about 4 million AMD, as well as previously used office furniture. In 2008, the National Assembly received 886 000 AMD worth of computers, printers and office equipment (previously used) from the United Nations Development Program. In 2009, computer equipment worth about 2.4 million AMD was allocated to the National Assembly by the German Technical Cooperation Agency  (GTZ). In 2010 the OSCE Office in Yerevan provided literature worth of 115 000 AMD to the National Assembly.
During 2011, the Korea International Cooperation Agency (KOICA) provided  622 million AMD worth of equipment to the National Assembly: specifically, about 247 million AMD worth of conference voting and simultaneous interpretation systems, with related equipment. That same year, within the World Bank grant of Strengthening National Assembly's Capacity for Policy Formulation and Public Dialogue Project, 193.7 million worth of material assistance was allocated. In particular, broadcasting equipment – 88.7 million, computers and printers – 99.2 million and about 5.8 million AMD worth of literature for the Sitting Hall.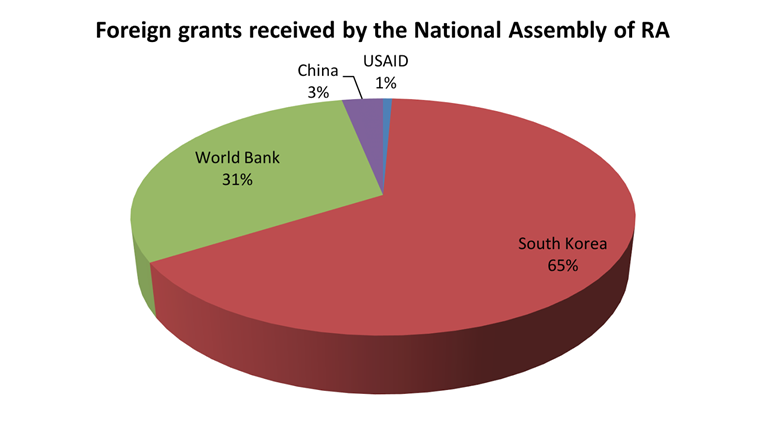 Within the same program in 2013-2014, the National Assembly has received about 99 million AMD worth of office, hall furniture and literature from the World Bank office.
In 2015, the USAID office in Yerevan provided 538 000 AMD worth  of computer equipment and about 2 million worth of office furniture. The same year, the National Assembly received laptops from China worth about 30 million AMD.
Thus, it appears that South Korea has provided the largest financial support to Armenia's legislative body, closely followed by the World Bank, China and the United States.
Tatevik Vardanyan,
Union of Informed Citizens
Related Posts: