«Union of Informed Citizens» continues to present series of foreign grants received by the state bodies of the Republic of Armenia. Now let us look at the grant programs received by RA National statistical service in 2006-2016 years from international organizations and foreign countries. During those years NSS received from different countries and international organizations assistance in the amount of more than 1 billion drams (more than 2 million US dollars).
Thus, in 2006-2007 National statistical service of Armenia received from International labor organization a grant of more than 5 million drams for the research on labor migration. In 2007-2008 Swedish International Development Cooperation Agency allocated a grant of about 18,5 million drams for the researches on living conditions of disabled people, time management, environment statistics and rural economic registers.
In 2010-2013 State committee on statistics of the CIS provided NSS with support of about 8 million drams for the «International Comparison» Program.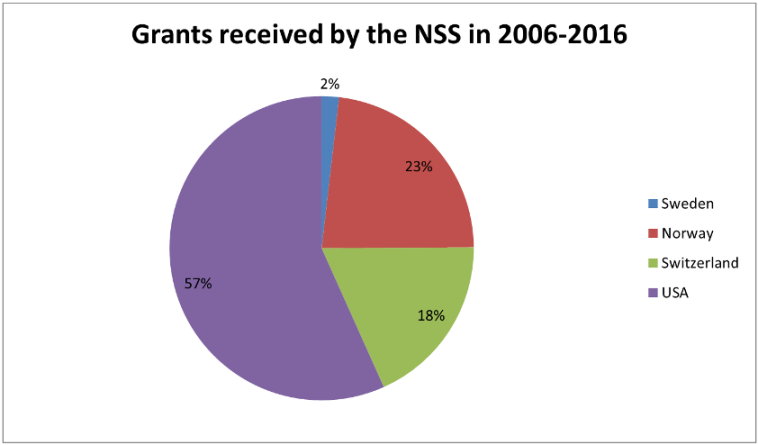 For the census held in the Republic of Armenia in 2011, NSS received grants from Italy, Norway, Switzerland and even India. Italian government granted 5.6 million drams, Norwegian government – 232.5 million drams, Switzerland – 185.5 billion drams, and India granted 162 units of computer equipment at value of more than 37.4 million drams. Thus, in order to conduct a census in 2011, NSS received totally more than 461 million drams of foreign grants (according to exchange rate of that time about 1 million 150 thousands US dollars).
In 2014 the US Agency for International Development (USAID) provided the statistical service with 128.7 million drams grant for selective research "from school to work" and ubiquitous agricultural accounting program, and in 2015 NSS received more than 219.4 million drams for a research on demography and health in Armenia.  For the same study in 2016 the US Agency for International Development (USAID) awarded the statistical service with about 223.5 million drams.
Thus, in the last 10 years about 40% of 1 billion drams granted to NSS have been allocated to the 2011 census and 60% of them received from the US Agency for International Development were spent on various studies.
Tatevik Vardanyan,
«Union of informed citizens»
Related Posts: