On January 16, "Freedom House" research and human rights organization published its annual "Freedom in the World" report. This year the report is entitled "Freedom in the World 2018: Democracy in Crisis." "Freedom in the World" is an annual report that monitors global trends in political rights and civil liberties. In 2018, the report studied 195 countries and 14 territories during the period between January 1, 2017 and December 31, 2017.
Political Freedoms and Civil Liberties in Armenia
The report also addresses the situation of political rights and civil liberties in Armenia and Artsakh. Just like in 2017, this year Armenia was among "partly free" countries. On a 7-point scale, where 7 is the negative and 0 is the positive index, Armenia has 4.5 points. Moreover, the political freedoms in Armenia are in worse condition than the civil liberties.  In particular, on the same scale of 7, the civil liberties in Armenia had 4 points, while political freedoms received 5 points (1 point lower).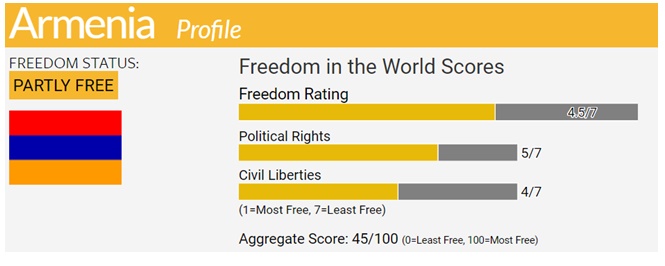 2017 Elections: A Democratic Decline
The report touches upon 2017 parliamentary elections in Armenia. Accordingly, unfair elections showed the continued decline of election-related democratic norms in Armenia. According to "Freedom House", the ruling party resorted to harassment of the opposition, intimidation of voters, and abuse of administrative resources in order to keep power.
Moreover, according to the report, electoral violations in Armenia contradict Armenia's aspiration to deepen relations with the European Union, with which it signed the Comprehensive and Enhanced Partnership Agreement in November 2017.
Nagorno Karabakh
The report also addresses Nagorno Karabakh in the "disputed territories" section. In this case, the rating has remained unchanged. On a 7 point-scale, Artsakh has 5 points, equally bad political and civil liberties, and the "partly free" status. Thus, according to the human rights organization, freedom in Nagorno-Karabakh is less protected than in Armenia but more than in Azerbaijan. Among other unrecognized republics of the region, Abkhazia is also "partly free", while Crimea, South Ossetia and Transnistria are "not free".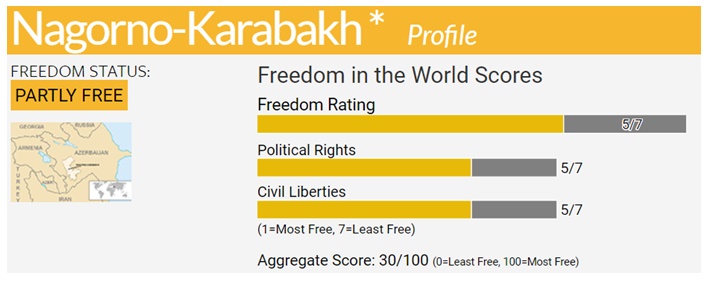 Later, Freedom House will also publish a detailed report for each country. However, it is already clear from the published data that Armenia will also receive criticism in a separate report due to election fraud during 2017 parliamentary elections.
Anna Pambukhchyan,
"Union of Informed Citizens"
Related Posts: