National Security Strategy • PUBLIC DISCUSSION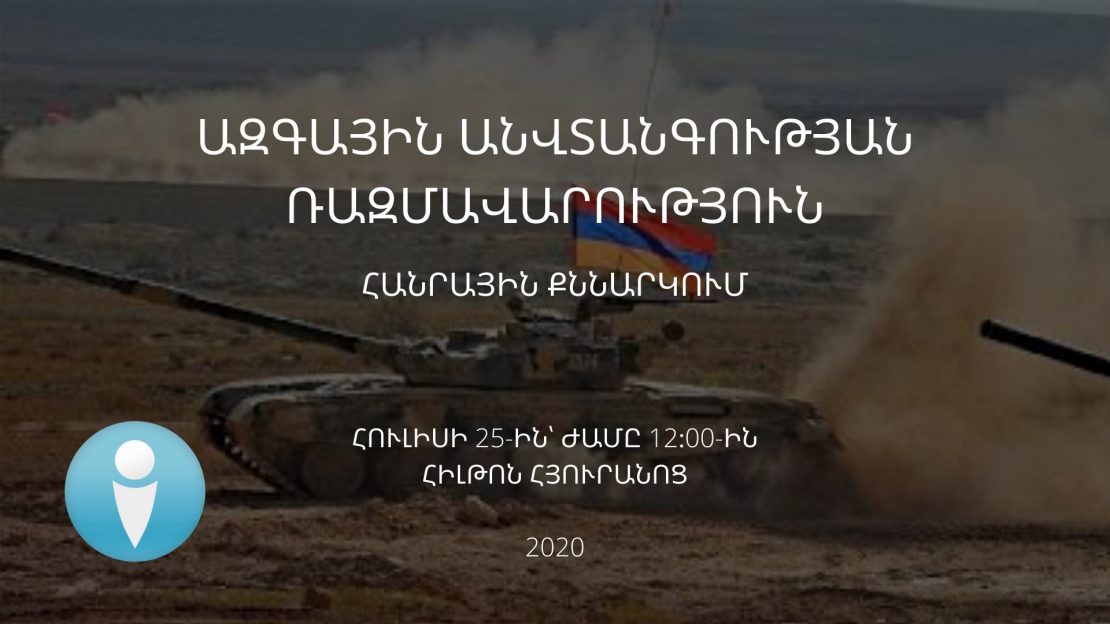 July 25, 2020

12:00 to 14:00
The National Security Strategy of the Republic of Armenia, approved at the RA Security Council meeting on July 10, 2020, declares as its main goal the establishment of guidelines for the safe and progressive development and welfare of the citizens of Armenia, based on the independent, sovereign, powerful Republic of Armenia, as the guarantor of the realization of this goal and the homeland of the Armenian people all over the world.
The strategy defines the national interests of Armenia and the strategic directions of their effective protection.
The document states that with the implementation of the non-violent, velvet, people's revolution that took place in Armenia in 2018, the citizen of the Republic of Armenia has set a high standard for ensuring the security, development and prosperity of the state.
In the new context, the core of Armenia's security policy is the democratic system of government, which lays a solid foundation for strengthening the country's economic, political, intellectual, and, consequently, military potential.
The strategy is based on three basic principles. First, a strong and prosperous Armenia is the guarantor of its own security. In this context, Armenia will continue to make efforts to ensure regional and international security.
Second, the strategy is designed to contribute to the long-term goal of ensuring the permanence of the Armenian statehood – "preparing us to face the possible dangers that will ever threaten our statehood".
Third, according to the strategy, in a constantly changing world, it becomes a priority to develop Armenia's internal and external resilience in order to always be ready for new, unpredictable challenges and to respond to them effectively.
It is also noted that in order to ensure a comprehensive national security, it is necessary to combine all the efforts of the public administration system and the society.
We will discuss the National Security Strategy in detail on July 25, 2020, at 12:00, during a public discussion organized by the "Union of Informed Citizens" NGO in the hall of the Hilton Hotel in Yerevan.
The Speakers
Armen Grigoryan – Secretary of the Security Council
Ruben Rubinyan – Chairman of the RA NA Standing Committee on Foreign Relations
Gevorg Gorgisyan – Secretary of the "Bright Armenia" faction, MP
Daniel Ioannisyan – Program Coordinator of the "Union of Informed Citizens" NGO
Styopa Safaryan – Director of the Armenian Institute of International and Security Affairs
2020-7 -25 12:00
2020-7 -25 14:00
Europe/London
National Security Strategy • PUBLIC DISCUSSION
The National Security Strategy of the Republic of Armenia, approved at the RA Security Council meeting on July 10, 2020, declares as its main goal the establishment of guidelines for the safe and progressive development and welfare of the citizens of Armenia, based on the independent, sovereign, powerful Republic of Armenia, as the guarantor of
Ереван
save event to calendar