What are the preconditions for good elections • PUBLIC DISCUSSION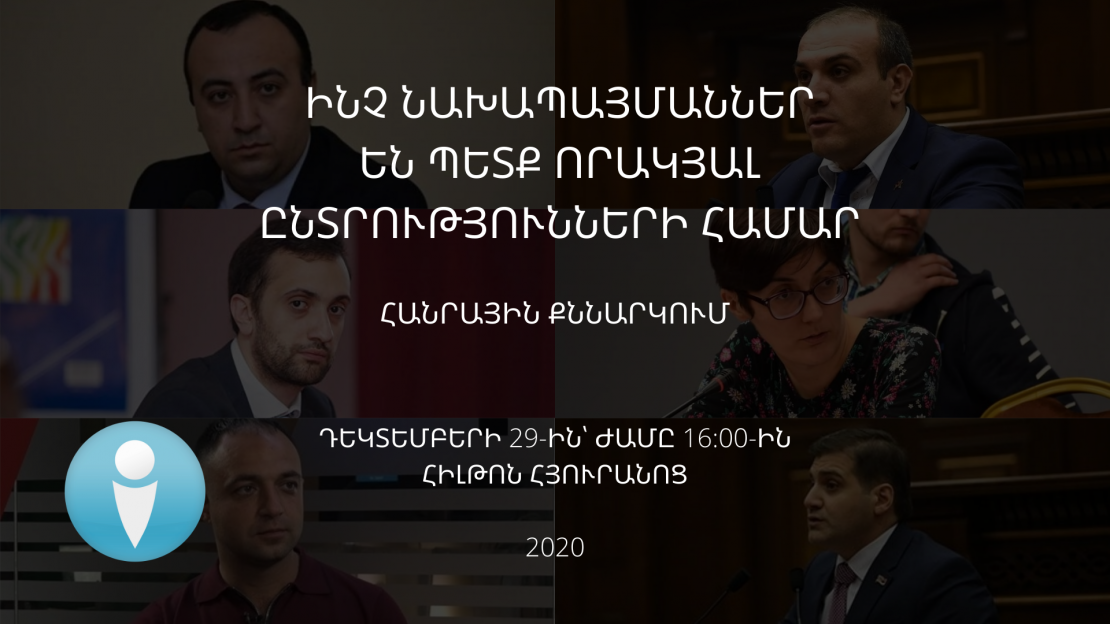 December 29, 2020

16:00 to 18:00
Prime Minister Nikol Pashinyan has announced that he is initiating consultations with the involvement of parliamentary and extra-parliamentary forces on the issue of holding early parliamentary elections in 2021.
In terms of overcoming the political crisis in Armenia, it is necessary not only to hold early elections, but also to organize open, free and transparent elections. In other words, a quality electoral process is needed, the implementation of which requires political will and smoothly functioning electoral mechanisms.
In this context, the Electoral Code, which is now being amended, is of utmost importance.
We will discuss the preconditions for holding good elections in Armenia on December 29, 4pm, during a public discussion organized by the Union of Informed Citizens NGO in the Hilton Hotel.
Speakers:
Hamazasp Danielyan, Deputy of "My Step" Faction in Parliament
Karen Simonyan, Deputy of "Bright Armenia" Faction in Parliament
Daniel Ioannisyan, Union of Informed Citizens NGO
Vardine Grigoryan, Representative of the Helsinki Citizens' Assembly Vanadzor
Gor Hakobyan, "Citizen's Decision" Party
Arman Babajanyan, "For the Republic" Party
2020-12 -29 16:00
2020-12 -29 18:00
Europe/London
What are the preconditions for good elections • PUBLIC DISCUSSION
Prime Minister Nikol Pashinyan has announced that he is initiating consultations with the involvement of parliamentary and extra-parliamentary forces on the issue of holding early parliamentary elections in 2021. In terms of overcoming the political crisis in Armenia, it is necessary not only to hold early elections, but also to organize open, free and transparent
Երևան
save event to calendar