The process of judicial reforms in the Republic of Armenia: establishment of Anti-Corruption Committee • ROUND TABLE DISCUSSION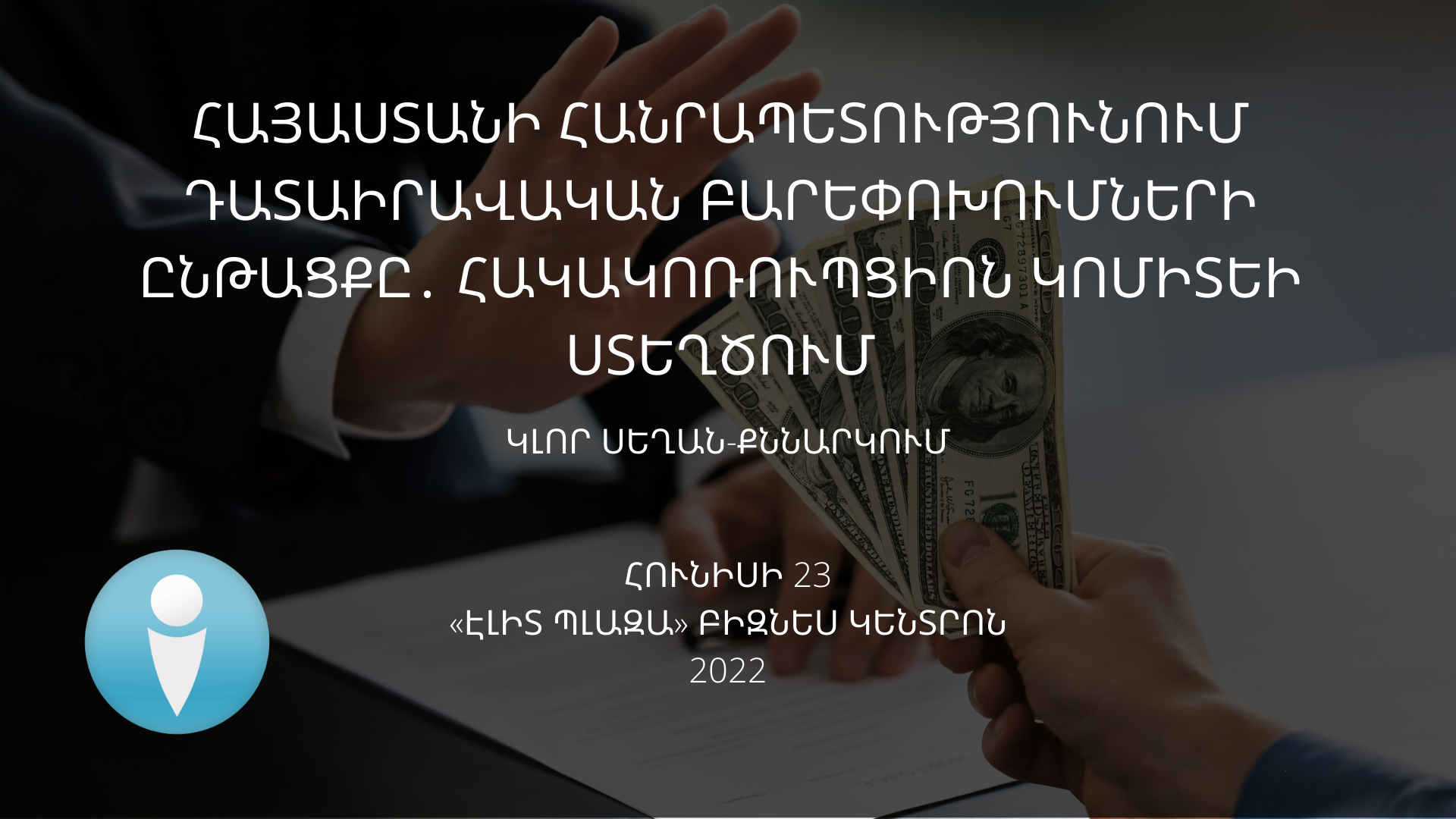 June 23, 2022

16:00
«Էլիտ Պլազա» բիզնես կենտրոն
+374 11 355042
On June 23, the Union of Informed Citizens NGO and the Armenian National Platform of Eastern Partnership Civil Society Forum of are organizing a round table discussion entitled "The process of legal reforms in the Republic of Armenia: establishment of an Anti-Corruption Committee".
Speakers of the discussion are RA Deputy Minister of Justice Yeranuhi Tumanyants, Deputy Chairman of the Anti-Corruption Committee Mushegh Babayan, Member of the National Assembly Tsovinar Vardanyan, Transparency International anti-corruption center, UIC legal expert Vagharsh Aghabekyan.
The moderator of the event is Hovsep Khurshudyan, the coordinator of the EaP CSF Armenian National Platform, the president of the Free Citizen CISC NGO.
The event will start at 16:00 in the Mantashov hall of Elite Plaza business center.
2022-6 -23 16:00
2022-6 -23
Europe/London
The process of judicial reforms in the Republic of Armenia: establishment of Anti-Corruption Committee • ROUND TABLE DISCUSSION
On June 23, the Union of Informed Citizens NGO and the Armenian National Platform of Eastern Partnership Civil Society Forum of are organizing a round table discussion entitled "The process of legal reforms in the Republic of Armenia: establishment of an Anti-Corruption Committee". Speakers of the discussion are RA Deputy Minister of Justice Yeranuhi Tumanyants,
«Էլիտ Պլազա» բիզնես կենտրոն
save event to calendar