The Second Nagorno Karabakh War unleashed by Azerbaijan on September 27, 2020, ended with the trilateral statement signed between Armenia, Russia and Azerbaijan on November 9. Clause 8 of the statement provided for "the exchange of prisoners of war, hostages and other detained persons and the bodies of the dead".
The "Union of Informed Citizens" has referred to the progress of implementation of that statement. Unlike the Armenian side, Azerbaijan has not yet fully fulfilled its obligation to return the prisoners of war, and Russia, in its turn, has failed to ensure the exchange of prisoners on a "all-for-all" basis about a year and a half after the war.
The Armenian side has to make additional diplomatic efforts to complete the process of returning the captives, including working with countries and international organizations that are not parties to the November 9 statement. As a result, a number of countries and institutions are already actively involved in this process.
The "Union of Informed Citizens" has calculated the number of prisoners returned to Armenia since the 44-day war (by mediating countries).
Total number of returned captives
In response to the inquiry from the Union of Informed Citizens NGO, the National Security Service reported that 150 people had been released from captivity as of February 16, 2022. One of them, Lebanese-Armenian Maral Najaryan, was flown to Lebanon in March 2021, and another captive was sent to Russia in February 2021 upon his desire. Thus, the number of returned prisoners of war is 148.
According to the National Security Service, the first captive was returned to Azerbaijan during the war on October 28, 2020. The main process of prisoner exchange started in December of that year.
Twenty-six percent were released from captivity through a country / organization that was not a party to the November 9 statement
In total, 22 groups of prisoners were returned after the war, 18 of them through the mediation of Russia, and 4 through other countries and organizations, in particular, the United States, the European Union, France, Hungary and Georgia. Thus, 111 Armenian captives were released from captivity through the mediation of Russia, and 39 through the mediation of the above-mentioned countries or organizations.
The infographic below shows the number of returned captives by mediating country / organization and return dates.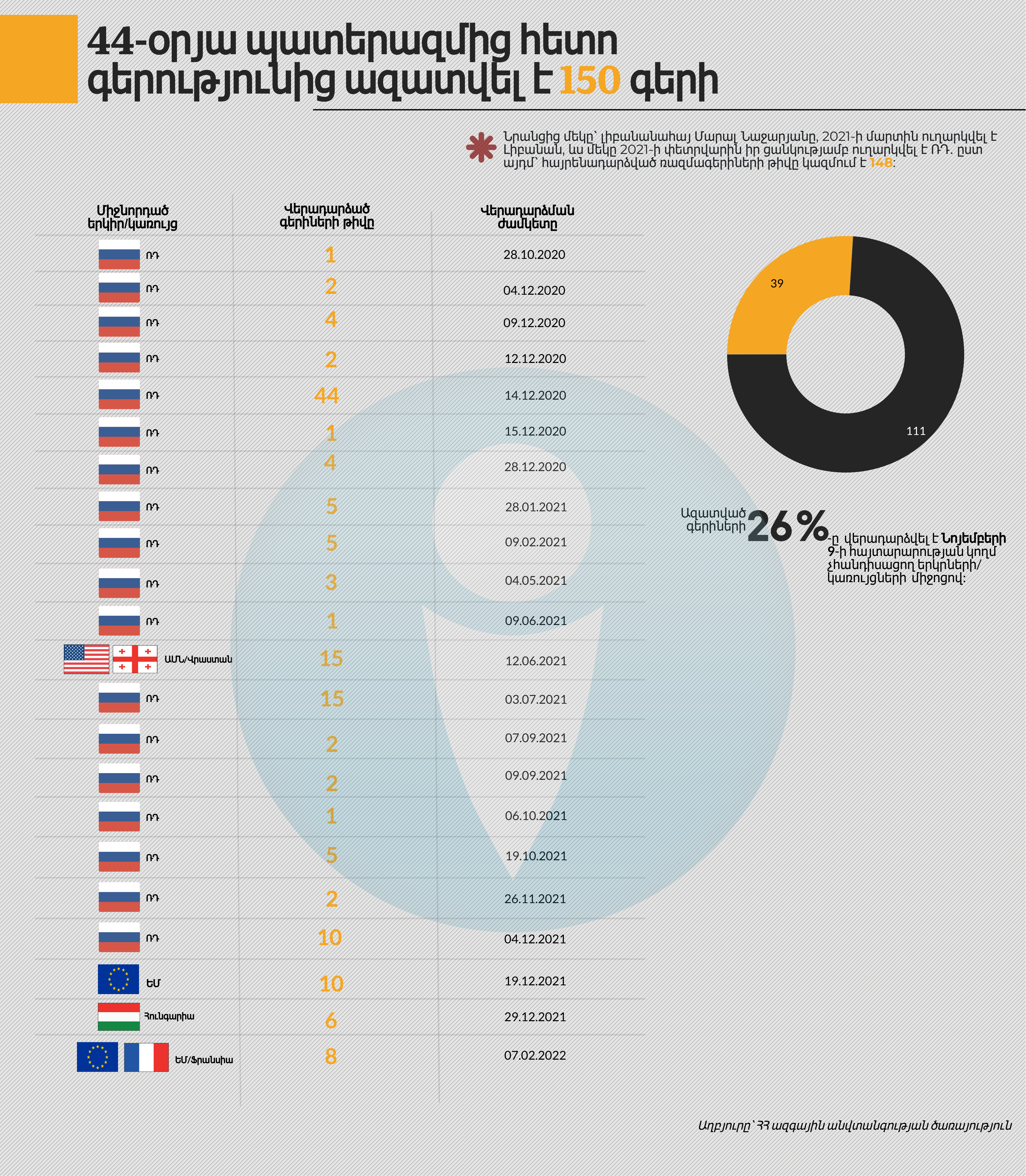 Nane Manasyan
Union of Informed Citizens
Related Posts: