As it is known, recently the RA Public Services Regulatory Commission has decided to reduce the electricity tariff in Armenia by 1.2 AMD. As a result, 1 kWh will cost 29.48 to 41.98 AMD (depending on the time of the day and voltage) for legal entities, and for residential subscribers it will make up 34.98 AMD (at night) and 44.98 in daytime.
On that occasion, the "Union of Informed Citizens" has compared the electricity tariffs in the 15 post-Soviet republics and summarized the data in a table.
Thus, it results that Armenia has the highest rate for electricity not only compared to the Eurasian Economic Union, but also the CIS countries. And this picture is observed notwithstanding the fact that we have so many hydropower stations and a nuclear power station, as well as the "gas for electricity" agreement with Iran.
Among former Soviet republics, only Moldova, Lithuania and Latvia have higher electricity tariffs compared to Armenia. However, the electricity tariffs are lower in Uzbekistan, Tajikistan, Kazakhstan, Kyrgyzstan, Turkmenistan, Ukraine, Belarus, Russia, Estonia, Georgia and Azerbaijan.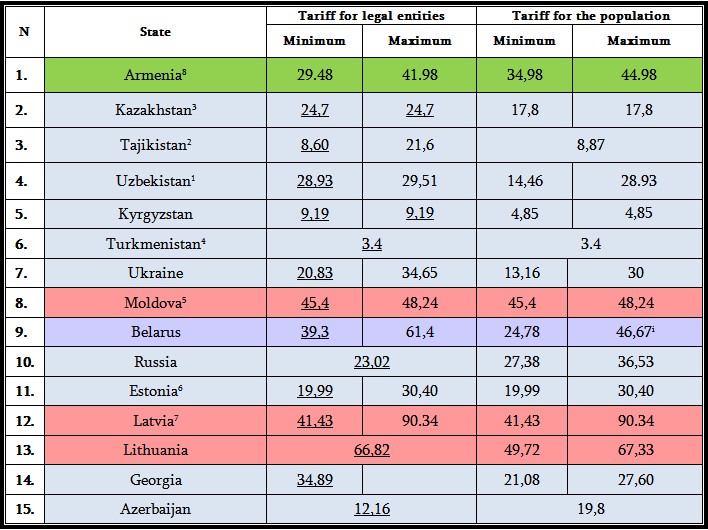 You can read about the reasons why the electricity tariff should be lower in Armenia here.
"Union of Informed Citizens"
Related Posts: