"Union of Informed Citizens" continues its series on foreign grants received by Armenian state bodies, within the framework of which we will address the grants received by the RA Ministry of Justice in 2007-2015. During this period, the Ministry has received grants of more than 32.6 million USD.
Thus, the World Bank has awarded the following grants to the Judicial Projects Implementation Unit:
Dutch grant: 2008-2010, 4,8 million USD
Japanese grant: 2007-2013, 3 million USD
Currently, a 468 thousand USD worth grant program aimed at enhancement of training capacities of the RA School of Advocates is being implemented.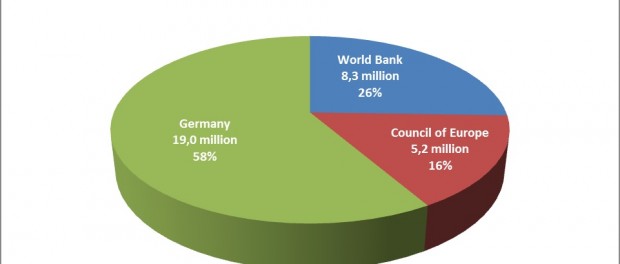 Bureau of International Narcotics and Law Enforcement Affairs of the US Department of State  has awarded the following grants to the "Offenders Rehabilitation Center" SNCO through "PH International" Armenian Branch:
About 900 USD for "Equal Opportunities for All Children" project in January-May 2014,
Around 4,700 USD for the implementation of the program "Creation of Parents' Club among Women Prisoners in Abovyan Penitentiary",
Since December 2015, this organization also funds the 3920 USD worth program called "Promotion of Justice Accessibility for Children".
Within the framework of the grants received from the Council of Europe, the RA Ministry of Justice implements the following projects:
"Strengthening the Independence, Professionalism and Accountability of the Justice System in Armenia: 2.2 million USD,
Support to the Establishment of a Probation Service in Armenia: 732 thousand USD,
"Strengthening the Application of the European Convention on Human Rights and the Case Law of the European Court of Human Rights in Armenia": 1.3 million USD,
"Strengthening Health Care and Human Rights Protection in Prisons in Armenia": around 1 million USD.
The German Government has provided the following grants to the RA Government:
"Judicial Reforms" regional program, for the implementation of which 9 million USD was provided in 2014,
"Study and Expert Fund" program, for which 7 million USD was provided in 2014 ,
"Study and Expert Fund – Capacity Enhancement" program, for the implementation of which 3.84 million USD was provided in 2013 and more than 4.2 million USD in 2014.
In 2015, "Improving Access to Justice for Children in Armenia" program was implemented by UNICEF (United Nations Children's Fund). The grant project cost more than 41 thousand USD. During the same year, the 6 thousand USD-worth "Professional Experience Exchange" program was implemented with the support of the British Embassy in Yerevan.
P.S. Note that the amount of money provided by the European Union for the implementation of judicial reforms in Armenia is not included here as it is not provided in the form of grants but as budgetary assistance with a precondition to carry out reforms.
Tatevik Vardanyan,
"Union of Informed Citizens"
Related Posts: