As it is known, the Russian-Armenian agreement on "Providing a State Export Loan to the RA Government" was signed in Yerevan on June 26, 2015, according to which Armenia was to purchase 200 million USD worth weapons and ammunition from Russia, paying back the loan amount during 10 years.
The agreement on purchasing weapons "on credit" came into force only in February 2016. The weapons purchased within the framework of the agreement were due to be supplied to Armenia during 2016 and 2017.
And though, as previously informed, the types of weapons to be supplied by the agreement were quite old (technologies of 80s, 70s, and even 60s), delivery of some relatively modern (10-20 years old) weapons was also envisaged. Examples include TOS-1А "Solntsepyok" heavy artilleries and "Smerch" multiple rocket launchers.
"Union of Informed Citizens" regularly makes enquiries and receives information from the RA Ministry of Finances on the amount of loan obligation of Armenia within the scope of the above mentioned agreement. That amount is equal to the total value of the weapon supplied to Armenia or weapon that has undergone a certain production cycle.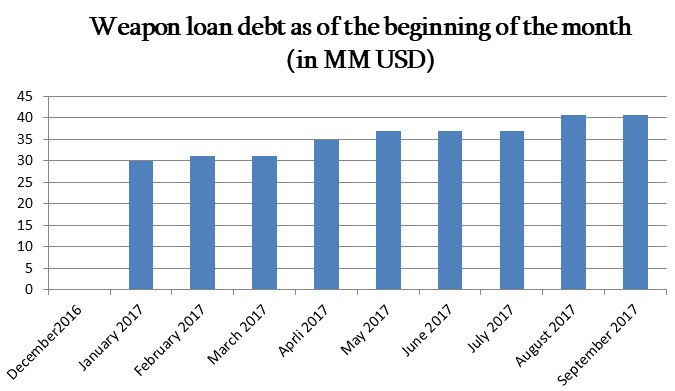 Thus, in response to our enquiry the loan obligation of Armenia according to the aforementioned agreement was found to be 40,7 million USD as of 1st of September 2017.  In other words, more than two years after signing the agreement the Armenian side has received weapons and other military products of only 40,7 million out of 200 million USD (not more than 20 % of the total amount).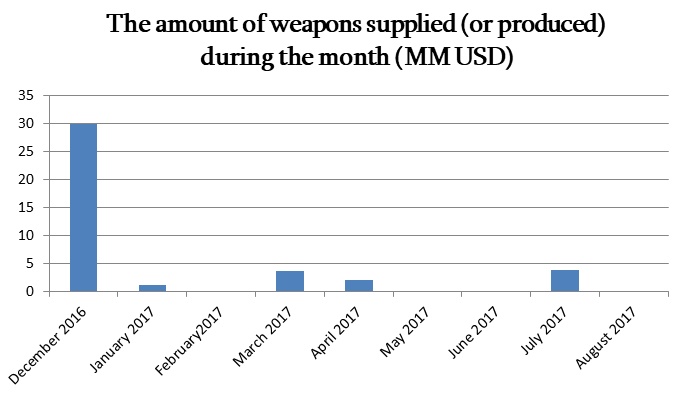 As the chart shows most of the weapons out of 40 million (about 30 million) were supplied or produced in December 2016. The remaining weapon of 10 million USD was supplied in January, March, April and July this year in a few million dollar portions.
Such a slowdown in supply of weapons to Armenia is incomprehensible given how rapidly Russia supplies  weapons to Azerbaijan, Iraq, Syria and other countries having military conflicts.  Nonetheless, according to the agreement only a few months (until December 31, 2017) are left for supplying the rest of the weapons (of about $ 160 million).
PS. It should be noted that "Iskander" tactical missiles were obtained from Russia out of the scope of this contract. For more details about these missiles read here:
"Union of Informed Citizens"
Related Posts: