On January 16, the American "Freedom House" research and human rights organization published its annual "Freedom in the World" report. The report entitled "Freedom in the World 2018: Democracy in Crisis" represents a study of political rights and civil liberties in 195 countries and 14 territories of the world during the period between January 1, 2017 and December 31, 2017.
We have already addressed the sections referring to Armenia and Artsakh.
According to the 2018 report, the political rights and civil liberties have declined over the period of 12 years. Moreover, democratic values are endangered throughout the world.
The Superpowers
The report states that even the United States, which has been advocating and promoting democratic values all over the world, has declined this role. Moreover, there is a fall in political and civil liberties in the United States.
According to Freedom House, Russia and China not only oppress their own population, but also conduct anti-democratic activities outside their borders. According to the report, Moscow and Beijing consider democracy as a threat to their dictatorial regimes, and, thus, they continue to consistently fight against democratic institutions and their advocates.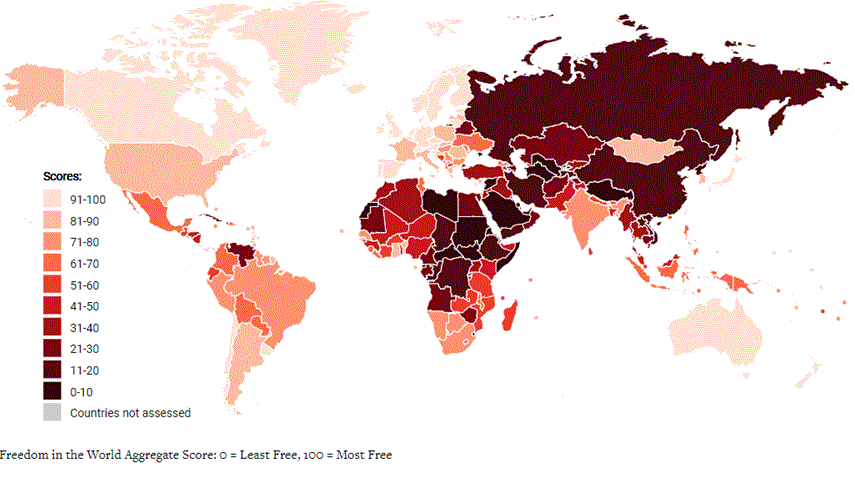 The Region
Among regional countries, Turkey has suffered a democratic setback and has been ranked among "not free" countries (previously, it was ranked as a "free country"). Iran and Azerbaijan also remained "not free" countries. Georgia and Armenia are "partly free". Moreover, the situation in Georgia is considerably better compared to Armenia. Thus, for instance, on a 7-point scale, where 7 is the negative and 0 is the positive index, Georgia has 3 points, while Armenia has 4.5 points, i.e. 1.5 point lower than its northern neighbor.
Eurasian Economic Union member countries, except for Kyrgyzstan and Armenia, are all among "not free" countries. Moreover, Kazakhstan and Belarus have 6 points, and Russia has 6.5 points, i.e. 0.5 point higher than the worst index. Kyrgyzstan, in its turn, is in a worse condition than Armenia with its 5 points.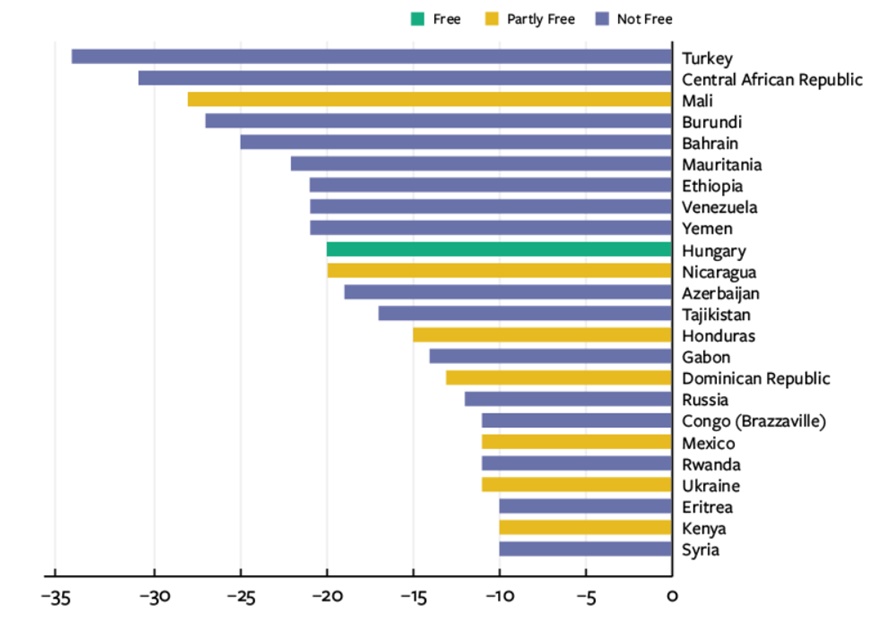 In fact, this year Armenia is again the most free country among the EAEU member states. Nevertheless, with regard to Armenia, the report notes that during 2017 parliamentary elections, there was an abuse of administrative resources, harassment of the opposition and intimidation of voters.
Anna Pambukhchyan
"Union of Informed Citizens"
Related Posts: