Transparency issues of pre-election campaign and political party financing • PUBLIC DISCUSSION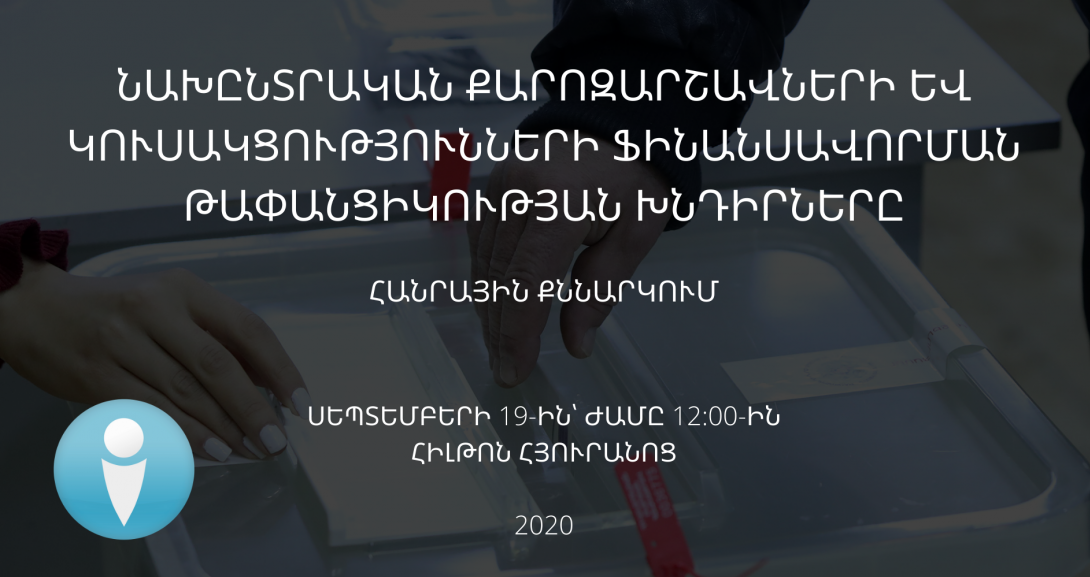 September 19, 2020

12:00 to 14:00
The ongoing amendments to the Electoral Code and the Law on Parties propose changes in the procedures for increasing the transparency of the financing of pre-election campaigns and political parties.
The aim of the reforms is to increase the transparency, publicity and accountability of party financing, as well as to improve the tools of public control over financial resources, reduce corruption risks , separate political activities from business, reduce the impact of private interests on party activities, as well as promote inclusiveness in party activities.
Reforms also include mechanisms to increase control over political campaign spending and their limitations. Currently, the financing of the pre-election campaign of the parties is quite non-transparent and uncontrollable.
According to the current legislation, the parties (blocs) participating in the NA elections must open a pre-election fund for financing the pre-election campaign. The law sets out a list of basic expenses, however, it is yet incomplete, therefore expenses not included in the list can be financed from other sources as well.
In general, no proper oversight of campaign finance and expenditure legality is exercised.
We will reflect on the possible solutions for the mentioned problems during the public discussion on "Transparency issues of pre-election campaign and political party finance" organized by the "Union of Informed Citizens" NGO on September 19, 2020, at 12:00p.m. in the "Paris" hall of the "Hilton" hotel.
The Speakers
Hamazasp Danielyan, NA MP, My Step faction
Karen Simonyan, NA MP, Bright Armenia faction
Mikael Nahapetyan, Citizen's Decision
Daniel Ioanissyan, Program Coordinator, "Union of Informed Citizens" NGO
Vardine Grigoryan, Representative of HCA Vanadzor office
2020-9 -19 12:00
2020-9 -19 14:00
Europe/London
Transparency issues of pre-election campaign and political party financing • PUBLIC DISCUSSION
The ongoing amendments to the Electoral Code and the Law on Parties propose changes in the procedures for increasing the transparency of the financing of pre-election campaigns and political parties. The aim of the reforms is to increase the transparency, publicity and accountability of party financing, as well as to improve the tools of public
Երևան
save event to calendar