REFORMS.AM • Simple and accessible: Presentation on reforms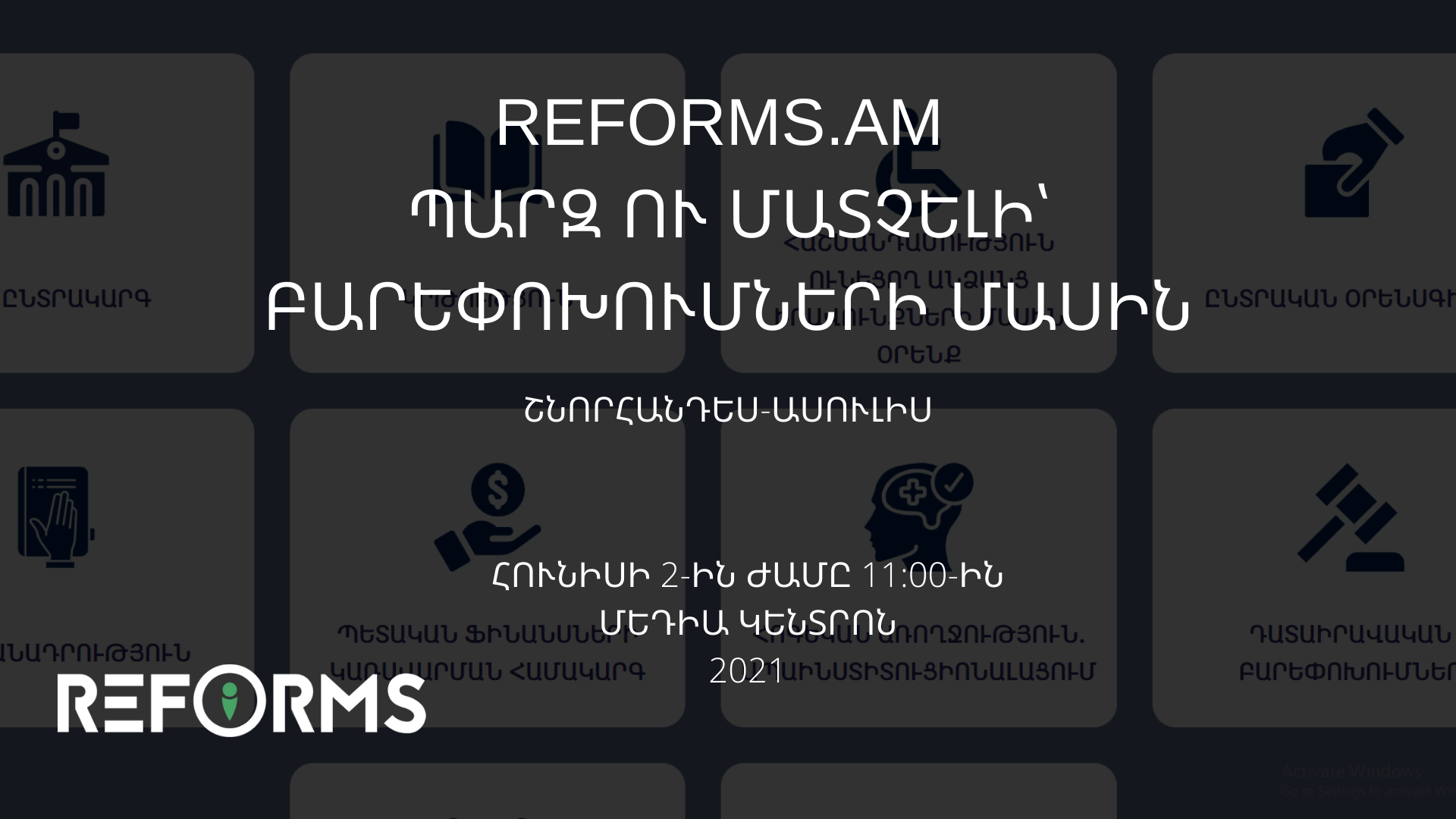 June 2, 2021

11:00 to 13:00
Մեդիա կենտրոն
+374 11 355042
On June 2, at 11:00 am, the Media Center will host a presentation on the Reforms.am website about the reforms being implemented in Armenia.
Speakers:
– John Allelo, USAID Armenia, Director
– Kristine Grigoryan, First Deputy Minister of Justice of the Republic of Armenia
– Daniel Ioannisyan, Union of Informed Citizens NGO, Programs Coordinator
Changes and reforms are taking place in the public administration system of Armenia, but sometimes it is difficult to determine exactly what is changing and how, who is implementing the reforms and when.
To make the reforms more understandable, the Union of Informed Citizens NGO has created the Reforms.am website.
Until now the information on the reforms was available to the public only in the form of long documents, laws and bills. Now they are presented in categories, in short, detailed versions, written in a short, clear and understandable language.
The website was prepared with the financial support of the US Embassy.
2021-6 -2 11:00
2021-6 -2 13:00
Europe/London
REFORMS.AM • Simple and accessible: Presentation on reforms
On June 2, at 11:00 am, the Media Center will host a presentation on the Reforms.am website about the reforms being implemented in Armenia. Speakers: – John Allelo, USAID Armenia, Director – Kristine Grigoryan, First Deputy Minister of Justice of the Republic of Armenia – Daniel Ioannisyan, Union of Informed Citizens NGO, Programs Coordinator Changes
Մեդիա կենտրոն
save event to calendar